LAPLACE  – (RealEstateRama) — Ochsner Health System opened its new Ochsner Medical Complex – River Parishes, completing a relocation of services from the former River Parishes Hospital campus to a newly-constructed, state-of-the-art facility near Tiffany Drive and Airline Highway in LaPlace. The new 20,000 square foot medical complex housing a 24-hour, 7-days a week emergency department accommodating 13 private beds, and onsite laboratory and radiology services using the latest technologies, is part of a $30 million investment and three-year commitment by Ochsner to St. John the Baptist Parish.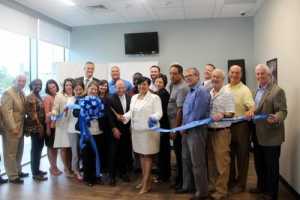 "It is with great pride that we open this new state-of-the-art medical facility that will serve the LaPlace area," said Stephen Robinson, Chief Executive Officer, Ochsner Medical Center – Kenner. "This facility allows Ochsner to provide the most up-to-date, high-quality care, in a modern facility that provides convenient access and is fully equipped to meet the healthcare needs of the residents of this region."
In addition to emergency services and an onsite laboratory, the new complex offers diagnostic imaging services including ultrasounds, bone density scans and new, more accurate 2D/3D mammograms. Other advanced diagnostic imaging services offered include: digital X-ray rooms and digital portable x-rays, providing faster, better quality images, scoliosis spine studies– the only scans of this type in the region– MRI scans, cardiac diagnostic imaging, CT scans with software for enhanced-quality images and lower radiation doses, and nuclear medicine. This level of comprehensive diagnostic imaging is unmatched in St. John the Baptist Parish.
The new medical complex features a design and layout that enables the medical staff to better handle trauma patients, triaging patients in need of the most immediate care. Additionally, the facility features special areas designed specifically for the needs of St. John the Baptist Parish's local biochemical industry.
A new  this facility is Ochsner's Telestroke Program, which allows the on-site staff to consult immediately with Ochsner vascular neurologists 24 hours a day, 7 days a week, 365 days a year, using telemedicine equipment to determine the best treatment options for stroke patients.
Treatment for stroke symptoms is often a race against the clock. The National Institute of Neurological Disorders and Stroke found that stroke patients who received tissue plasminogen activator (t-PA) within three hours of the beginning of stroke symptoms were more likely to recover from their stroke with little or no disability. Through Ochsner's Telestroke program neurologists are able to see patients as they arrive at Ochsner Medical Complex – River Parishes, and they are able to evaluate and prescribe t-PA treatment more quickly.
"The opening of this new medical complex is a great benefit to our current parish residents, as well as those individuals and businesses considering making St. John the Baptist Parish their home," said Natalie Robottom, President, St. John the Baptist Parish.
Ochsner's commitment to the River Parishes community does not stop with this medical complex. The health system also offers a number of specialties in the community, including gastroenterology, cardiology and primary care clinics, among other specialties.
Ochsner Medical Complex – River Parishes is fully integrated with Ochsner's electronic medical record, the industry-leading Epic software, greatly expanding the ability of the hospital to coordinate patient care across the entire Ochsner Health System. Epic allows patient information to be securely accessed by all Ochsner providers, meaning that, no matter which Ochsner facility a patient chooses to visit, the medical staff at that facility will have full access to the patient's medical record, ensuring the highest quality of care. Patients of Ochsner Medical Complex – River Parishes, and all patients throughout the Ochsner Health System, also have access to MyOchsner, a secure online tool that allows patients to communicate with physicians, schedule online appointments, view lab and imaging results, prescription refills and more.
For more information on the new Ochsner Medical Complex – River Parishes, visit Ochsner.org/riverparishes or call 504-712-2800.
###
About Ochsner Health System
Ochsner Health System is Louisiana's largest non-profit, academic, healthcare system. Driven by a mission to Serve, Heal, Lead, Educate and Innovate, coordinated clinical and hospital patient care is provided across the region by Ochsner's 29 owned, managed and affiliated hospitals and more than 80 health centers and urgent care centers. Ochsner is the only Louisiana hospital recognized by U.S. News & World Report as a "Best Hospital" across four specialty categories caring for patients from all 50 states and more than 80 countries worldwide each year. Ochsner employs more than 18,000 employees and over 1,100 physicians in over 90 medical specialties and subspecialties, and conducts more than 600 clinical research studies. Ochsner Health System is proud to be a tobacco-free environment. For more information, please visit ochsner.org and follow us on Twitter and Facebook.
Contact:
Paul Loisel
504-512-8592
paul.loisel (at) ochsner (dot) org