Mayor Mitch Landrieu and City officials celebrated the reopening of the newly-renovated Nix Library (1401 S. Carrollton Ave.) This $320,000 investment includes technological upgrades, infrastructure changes and a new floorplan.
The City of New Orleans announced it will add a fourth debris pass for residential properties from Thursday, Mar. 2 to Sunday, Mar. 5 in the New Orleans East tornado recovery effort. This will allow residents additional time to complete clearing debris from their properties.
The American Association of State Highway and Transportation Officials (AASHTO) recognizes Louisiana in a recent publication "The State of Freight II—Implementing the FAST Act and Beyond."
U.S. Housing and Urban Development today announced HUD will speed federal disaster assistance to the State of Louisiana and provide support to homeowners and low-income renters forced from their homes due to severe storms, tornadoes, and straight-line winds
The Louisiana Department of Transportation and Development announced today that beginning Saturday, February 11, crews will begin the process to shift traffic on its I-49 South project in Jeanerette.
The Jefferson Parish East Bank Consolidated Fire Department (EBCFD) has maintained a Class 1 rating over the last two decades and was notified by the Property Insurance Association of Louisiana (PIAL) it has received a 94.06% on the latest grading scale, the highest it has ever scored and currently the highest score in the State of Louisiana among fire departments. This score was due to the reconstruction of Fire Station #17
President Michael S. Yenni is pleased to announce that the Jefferson Parish HOME Consortium, through the Department of Community Development, is currently accepting SUB RECIPIENT applications from NONPROFIT ORGANIZATIONS for the 2017-2018 Community Development Block Grant (CDBG), Home Investment Partnership Program (HOME), and Emergency Solution Grant (HESG) programs. Based upon the previous year allocations, the following anticipated amounts for funding are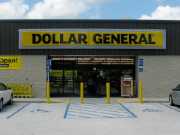 The Boulder Group, a net leased investment brokerage firm, has completed the sale of a single tenant new construction Dollar General located at 9443 Highway 1 in Natchez, Louisiana for $1,484,000